Over the past few years, a new kind of subprime lending has spread across the nation. These new loans, often called car title loans, offers cash-strapped consumers with poor or no credit a lump sum of money in a loan secured by the title of a car that they own. In many places, these loans have replaced the payday loans that used to serve customers with low incomes or poor credit, as payday loans have been subjected to stricter regulations in many states. While car title loans may seem like a good idea on the surface, there are numerous reasons why you should avoid them.
Many Borrowers Cannot Repay The Loans
Companies that write car title loans can generally be found where the population is less affluent. Many of the individuals seeking these loans have limited financial means and are already living paycheck to paycheck. The people often resort to the car title loans because they believe that there are no other lending options available to them. The borrower's ability to repay is not taken into consideration because the amount of the loan is based solely on the resale value of the vehicle. A high number of individuals are unable to repay the original amount when due, which typically indicates a predatory financial product.
The Interest Charged For The Loan Is Very High
The interest rate that lenders charge for car title loans are astronomical when compared to other financial products. The annual interest rate for a typical bank loan is around 5 percent and for a credit card can be as high as 25 percent. In comparison, the interest rate charged for a car title loan averages between 80 percent and 500 percent when all of the fees are factored in. In one case recently reported in the news, a man that took out a $4,000 car title loan was required to pay more than $9,000 total before the loan was cleared and his car was no longer under threat of repossession.
Many Borrowers End Up In A Vicious Debt Cycle
Many of the individuals that use car title loans get trapped into an endless cycle of debt. Many of them are unable to afford to pay off the entire loan when the loan period is up. The only way that they can pay off the current loan is to reapply for another loan as soon as their time is up with the first loan. Each time they renew the loan, more fees are added. The average individual using a car title loan renews the loan more than 5 times before it is paid off or the car is repossessed by the lender. Many car title loan recipients find themselves paying a great deal of money in fees to the lender over a long period of time with no recourse or relief.
The cons of taking out a car title loan outweigh the pros for all but the absolutely most dire cases. If you need some extra money, here are some better ways to obtain it.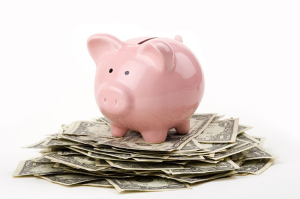 The act of saving money regularly can be difficult to turn into a habit, even though it is very important to your future financial security. There are so many products and services being advertised as necessary for the improvement of your life that it is very easy to spend every dollar you have and still not be satisfied. Fortunately, there is a saving method that you can use that ensures that you will save regularly and meet your savings goals. Here are the steps you can take to use this saving method effectively.
Establish An Affordable Amount For Regular Saving
The first step in reaching your saving goals is establishing an affordable amount that you can save from your paycheck each pay. This will be your baseline saving amount to get you started on your way to being a regular saver. It is recommended that you try to save at least 10 percent of your earnings, but if your budget is tight, start by saving $50 per pay. Over time, this small amount will snowball into a considerable sum that can be used for unexpected expenses and future needs. If you can, automate your saving and have the amount direct-deposited into your savings account each week.
Pledge To Save Half Of Any Lump Sum Payment
Once you have established your base saving amount, pledge to save at least half of any additional money you receive in the future. For example, if you receive a holiday bonus, an income tax refund, or other lump sum payment, put at least half of the amount into your savings account before you begin spending the rest. This allows you to increase the amount of your savings by a significant amount each time while still having part of the money available for your immediate needs.
Increase Base Amount When You Receive Salary Increases
In the future, you should increase the base amount you are saving from your salary every time you receive a salary increase. These increases usually come in the form of a pay raise or an adjustment from moving from one employment position to another one. If you are having a percentage of your income direct-deposited into your savings account, this adjustment is already being made for you. If you are transferring the money into your savings account yourself, you will need to calculate how much money the increase is adding to each check and then take half of that amount to add to your base amount each pay period. If you follow these three steps, you will find yourself saving a significant amount towards your saving goals without sacrificing your current quality of life.