Credit card churning is the act of signing up for one or more credit cards, taking advantage of their special offers, and then cancelling the credit card before you have to pay the fees. Churning can help you get a lot of great perks, but you need to churn properly to avoid costly mistakes.
Should You Churn?
Before you start churning, it's important to find out if it's right for you, so you can avoid problems. If you pay your bills on time, then churning could be for you. In addition, you need to have a very good credit rating. It's also helpful if you're planning a few fairly large purchases sometime in the future.
Now that that's said and done, here's what you need to know about churning.
The Basics of Churning
Generally, you first need to sign up for the card. But it can't be any old credit card. You need to compare credit card offers from various banks and not just the one you already bank with. You need to be selective, choosing the offers with the leading rewards that you are seeking to earn, e.g. Avios or Virgin. Once you've found one, you can apply for it, typically online. Before it's time to pay the usual credit card fees, cancel the card. This helps you to avoid losing money.
Following the Rules
You won't be able to obtain the rewards you desire if you don't follow the rules and read the fine print. For example, if you are looking to get a credit card that has 20,000 bonus points for signing up, you need to consider if you can actually achieve this. So for example, the sign up bonus won't hit your account until you first use the credit card and make a purchase of a certain amount, usually within 60-90 days of activation.
This is where strategy is so important in credit card churning. If you generally spend around £500 for groceries or other goods each month, then you can go ahead and use the card you're going to churn and pay for your groceries. This will get you the extra money the card is offering while helping you pay for normal purchases.
Always look at the restrictions and rules you'll have to follow to get the special offers. Find what looks convenient and feasible for your situation, and only do that.
Being Careful
When you are churning, you need to make sure you always meet the minimum spending requirements. Most importantly, you need to know that your credit rating will be affected to a certain degree by churning. Every time you apply for a card, your credit rating will be knocked down a couple of points. To help, you can churn with someone else to protect your rating.
The Learning Curve
We're just scratching the surface here: credit card churning looks a lot easier than it is. If you have questions, and you definitely will, then may I recommend this Reddit forum where you can read what others have done and ask your own questions. Flyer Talk (a huge forum where frequent flyers discuss their techniques for earning points and status) is also well worth reading too.
Credit card churning is very beneficial for people who churn properly. But you must follow the rules so you can get as many rewards as possible without damaging your credit rating or losing money.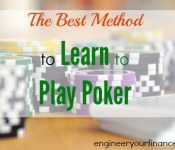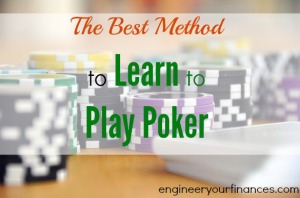 Poker is quickly gaining in popularity as millions of people around the world play the game daily. Beginners often learn to play poker by observing someone they know playing and picking up on the rules as they go along. Unfortunately, using this method leaves them with large gaps in their knowledge that can be devastating when they start playing poker for real money. A better method is to read information about improving your game online and testing out your new knowledge on low stakes poker games. Here are some of the things you need to know to get started.
The Basics Of The Game
Poker is a strategy game that involves thoughtful consideration and the ability to make the right decisions at the right time. People that are able to remain calm and make their decisions objectively have a much higher success rate than those that allow themselves to be governed by their emotions. It is important to remember that it is statistically impossible for you to win every time, but limiting your losses as much as possible will provide you with a better outcome in the end. It is also important to remember that poker is just a game, so have some fun and enjoy yourself while you are playing.
Texas Hold'em Rules
Texas Hold'em is quickly becoming one of the most popular versions of poker with players. The rules of the game are simple. The winner is the person with the best hand between the two cards in their hand and three of the five cards displayed on the table, making up a single five-card hand. The first round of betting is called FLOP and three of the community cards are turned over. The TURN and the RIVER card are the fourth and fifth community cards revealed in succession, exposed after each subsequent round of betting. After all of the community cards have been displayed, the player uses their best reasoning to make the best possible five-card combination from the cards available.
Seven Card Stud Rules
Seven Card Stud is another popular variation of poker with several differences in the way the cards are dealt and the number of betting rounds that take place. In Seven Card Stud, each player gets two cards dealt face down and then four more individual cards dealt one at a time face up after each round of betting. The last card is dealt face down after the final round of betting. The winner is the player with the best five-card hand that they can make. Seven Card Stud has longer game play, but that is one of the things that makes it exciting to the players.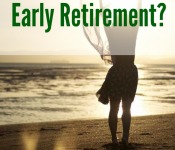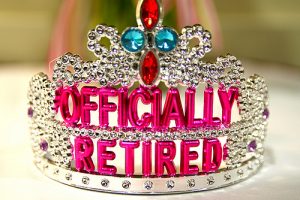 Many people dream of an early retirement, ending their employment with a company and taking off to do their own things in their own time. While the amount of money in your retirement savings accounts is a good indicator of your preparedness for retirement, your financial habits are a much more important factor in whether you are ready to retire early. The people that tend to retire early successfully have a number of financial habits in common. Here are some of the habits that may indicate that you are ready for an early retirement.
Your Time Has More Value Than Acquiring More Things
One of this signs that you may be ready for an early retirement is that you value your time more than you value the acquisition of more possessions. Most of the people that are on track for an early retirement save a larger portion of their income in their retirement accounts because they do not acquire as many purchases as their neighbors and co-workers. Valuing early financial independence over the instant gratification of another purchase helps them reach their retirement savings goals earlier in life and lowers what their expenses will be during their retirement years.
You Regularly Save 30 Percent Or More Of Your Income
If you are able to save 30 percent of your income, or more, in your savings and retirement accounts, you are on the right path for an early retirement. Your savings rate is the most important numerical factor in whether you can retire early because it shows that your expenses are low enough relative to your income that you will be able to retire comfortably without a steady paycheck. With nearly a quarter of Americans living paycheck to paycheck, being able to save at least 30 percent of your income puts you well above the curve.
You Keep Track Of All Your Financial Details
During retirement, it is more important than ever to keep track of all of your financial details to ensure that your money will last throughout the rest of your lifetime. The most important financial details to keep track of are your monthly expenses, your overall net worth, and the returns you are getting from your investment portfolio. Knowing these details will give you a good picture of your financial health and can alert you any potential issues well before they become significant financial problems.