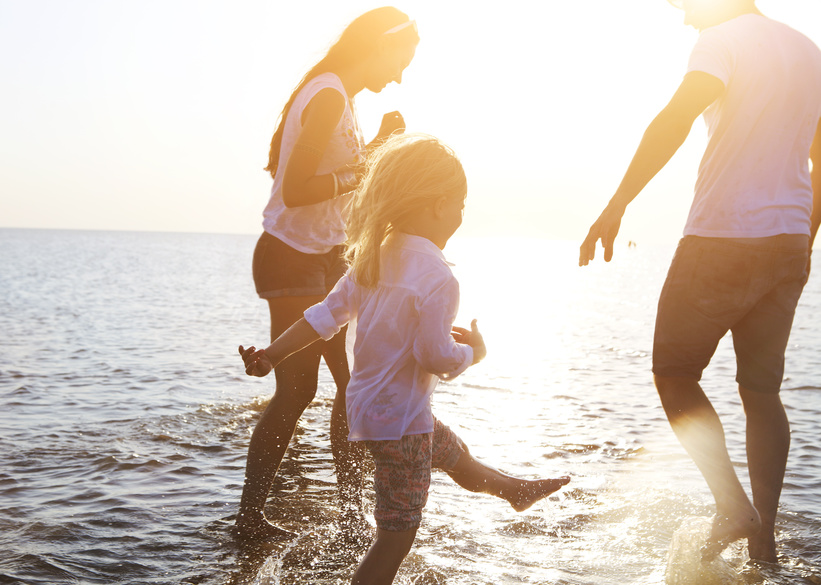 Americans are carrying around more work-related stress than ever before, and an astounding number of Americans now say that their work environments are hostile or hazardous. It's no surprise, then, that 96% of American workers say vacation time is important to them. But according to the 2017 Vacation Deprivation report from Expedia.com, half of American employees are vacation-deprived, and 43% say they don't take vacations due to budgetary concerns. But just because you're going away doesn't mean you have to go crazy with your vacation spending. There are ways to get the rest and relaxation you so desperately need without taking a huge hit to your budget. As long as you plan ahead and make financially smart decisions during your getaway, you'll come back feeling refreshed without being strapped for cash.
Create A Vacation Budget (Or Even An Account)
When choosing a beach destination for a trip, 78% of American travelers cited the estimated total price of a vacation as their top concern. But in order to determine what costs you can bear, you'll need a budget to work from. It's truly the simplest way to see what you can feasibly afford to spend. No one wants to come back from their vacation flat-out broke; creating and sticking to a budget can give you valuable information about your finances and keep you from spending too much along the way. While it may be next-to-impossible to know exactly how much everything will cost, you should at least have a rough estimate that you can amend later on.
Creating a bank account specifically for travel can keep you focused and can encourage you to plan ahead for your trip, too. You can make regular deposits into this account (you can even set up automatic transfers so you don't have to remember yourself) so that you don't have to dip into your savings to book your trip. Just be sure not to use this account for anything else but your vacation plans!
Choose The Right Type Of Trip, Location, And Lodgings
Once you have your budget in mind, it's time to choose your destination. If you're looking for a jumping-off point, USA Today has compiled a list of 30 of the best and most affordable cities for winter travel. Whether you're after Southern charm, a snowy landscape, or an exotic locale, there are feasible options that won't cost you an arm and a leg for airfare or a hotel room.
Be it a cruise, a camping trip, or weekly condo rental, you'll also need to decide on the sort of trip you want to take and determine whether it really fits into your budget. For example, while buying into a timeshare might seem like a worthwhile financial investment, it's actually an extremely poor economic decision. In fact, 85% of timeshare buyers regret their purchase, citing money problems and confusion for their change of heart.
With that in mind, don't waste your hard-earned money on a timeshare. But staying in a condo rental property, an Airbnb, or an all-inclusive resort might be more up your alley. Consider staying off the beaten path too, if there are affordable ways to get around, rather than in the city center. Keep in mind that short-term apartment or condo rentals are often less costly than hotels and may come equipped with kitchens, which can be a boost to your budget.
Book Early And Don't Pay More For Bags
Although it is possible to snag great last-minute deals on a trip, you're more likely to save when you book everything well in advance. This is especially true when it comes to travel tickets, special events, and lodgings. Getting a head-start on this process will also give you the opportunity to sign up for price change alerts that will notify you if there's a drop in costs for airfare or hotels. Don't forget to use an incognito window when you use price comparison search engines. Excessive searches can actually drive up the price of tickets and hotel rooms, so don't let them know where you're itching to go!
If you haven't traveled via plane recently, you might not know that airlines can charge a small fortune for checked bags. Some major airlines will allow you one checked bag for free, while others will charge $30 or so for each bag. Either way, if you can't travel light, you'll need to find other ways to save. You should pack your heaviest items in your carry-on to avoid overweight luggage fees on your checked bag (which will be added if your checked bag is over 50 pounds). If you have an airline credit card or have racked up a lot of airline miles, you ay be able to get baggage fees waived entirely. Sometimes, a seat upgrade can actually be more cost-effective than paying for each checked bag; some airlines won't charge first-class passengers for extra checked bags, but check with your carrier first. You might also want to consider wearing a traveling outfit with a lot of built-in pockets. It may seem silly, but you can pack certain items on your person (like in a heavy jacket or large pants pockets) and stow them in your carry-on luggage once you're on the plane.
Think Outside The Box
If you want to save money on vacation, conventional methods might not always be the most effective. For instance, you may be able to save some green just by going green. Bringing a reusable water bottle along with you will save you from having to spend more for bottled H20 once you arrive. You may also want to walk or bike as much as you possibly can; not only are these methods of transport kinder to the environment and to your body, but they'll be easier on your wallet than taking an Uber everywhere you go.
And although you should look forward to sampling the local cuisine, you don't have to fall into the trap of eating out every night. While 34% of Americans visit casual dining restaurants once a week, you'll probably be more likely to do so when you're on vacation. However, those meals can really add up. Plan to cook at your home away from home for at least a few nights (this is where booking a place with a kitchen is key!) and explore the local markets for fresh, delicious food to make. As a rule, try to limit your restaurant visits to just one meal per day. It might not be traditional, but your pocketbook will breathe a sigh of relief. Plus, you'll get a real taste of the local culture and all it has to offer.
It may not always be easy to keep those purse strings tight when you're on a trip. But as long as you plan ahead, it's absolutely possible to stick to a budget and still have an incredible time.