Most of us know by now that the average American is not saving enough money. But a recent survey by Bankrate.com shows that it might be worse than we imagined. Their survey last month points to a major problem for many American adults: Nearly 25% have virtually no money saved in an Emergency Fund.
Over 30% of those polled also said that if unexpected expenses came up, they would likely borrow to pay for it.
 Unexpected Expenses In Retirement
The best way to retire stress-free is to have enough income in retirement to cover all (or at least most) recurring expenses. But when trying to accurately project one's retirement situation, many people only include their monthly spending as it exists today. If they're not including a buffer for unexpected expenses, it could lead to major trouble.
To show how this can lead to problems, I ran a sample case in the WealthTrace Financial Planner. I looked at a couple that is currently 65 years old and is retiring next year. They have $52,000 in Social Security income that will start in retirement. They also have $12,000 per year in pension income. Their expected, recurring expenses in retirement are $55,000. They feel that their after-tax income in retirement will be enough to cover their expenses in every year. Because of this, they only have $22,000 saved in their IRA.
They are indeed correct that if their annual expenses in retirement don't change (not including general inflation) then they won't ever run out of money. The chart below shows how their expenses are covered in every year.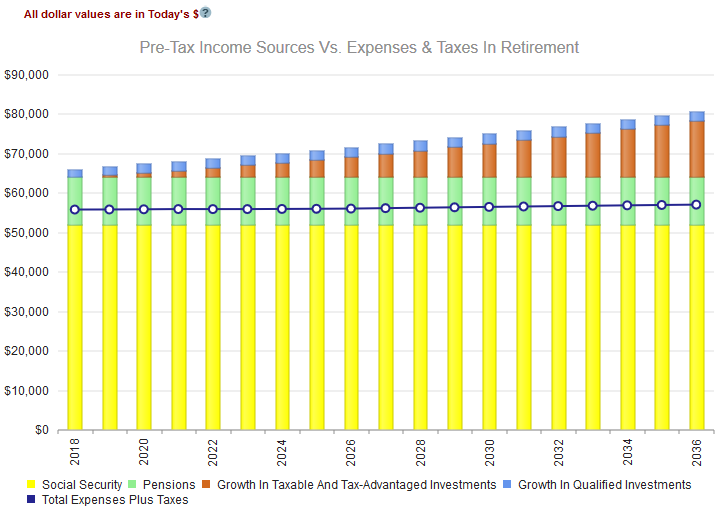 What Happens When There Is A Large, Unexpected Expense
Let's say that in five years one of the people in this plan has to stay in a long-term care facility for 6 months. Medicare only covers up to 100 days for this type of care and then they're on their own. In this example the couples is on the hook for $30,000 for this medical expense. You can see below what this looks like vs. their income.
No Emergency Fund/IRA Withdrawal
Because of this large expense, they have to withdraw everything from their IRA and borrow the rest to pay for the medical expense. You can see how their investment balances drop to below $0.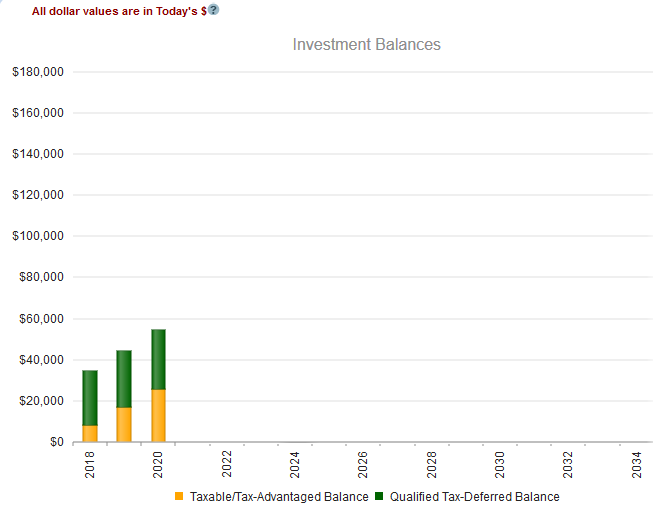 Not only do they have to now worry about paying off the loan they took out, but they also now have no safety buffer for future emergencies.
Building A Safety Buffer For Retirement
The best way to build a safety buffer for retirement is to start saving early. Let your savings compound in a tax-deferred retirement plan. It's truly amazing what the compounding of returns over time can do for one's savings. For example, at a 7.5% annual return, if one saves just $6,000 more per year for 30 years, he will have over $425,000 more in his retirement portfolio.
I also find that many younger people are not taking enough risk in their retirement portfolios. A 30 year old who plans on retiring at age 65 has 35 years until she needs her retirement money. This means that she can take way more risk than a person who is retired today. By "way more risk", I mean at least 80% in stocks, including exposure to international and emerging markets. Given enough time, stocks always outperform bonds. Again, the key here is to have enough time for the volatility of stocks to flatten out such that you get the average long-run rate of return.
Lastly, if you have access to a 401(k) plan, make sure you at least contribute up to the point where the company matching stops. This matching is free money and should never go to waste.
Do you have an emergency fund? Tell us about it in the comments below.
Looking for more great articles about having a comfortable retirement? Give these a try: