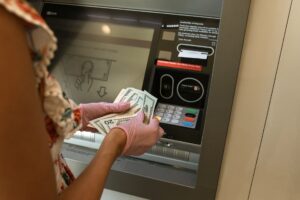 Although it may also be a few dollars here and there, banking fees can quickly add up when you aren't paying attention. However, there are several ways you can prevent yourself from paying more to access your money. So, if you are looking for the best strategy for avoiding ATM fees, here are a few suggestions to help you keep more of your hard-earned cash.
The Best Strategy for Avoiding ATM Fees
1. Carry Cash.
While it is always smart to stash some cash in your wallet for emergencies, it can also save you from paying ATM fees. When I'm on a strict budget, I leave my cards at home. While carrying cash is an old-school budgeting trick, it will take some time to adjust to life without plastic. It can be very frustrating when you go to make a purchase only to discuss you don't have enough to cover it. However, it will also teach you better money management and ensure you don't pay unnecessary banking fees. If you don't have your card, you won't have to pay ATM fees.
On the other hand, you probably don't want to carry around a huge stack of cash either. Not only is it uncomfortable, but also makes you an ideal target. But, if you carefully track your budget and spending, you'll know how much you need to carry from week to week. Then, you can withdraw from your own bank when it's convenient for you.
2. Plan Ahead.
Planning ahead is some solid, common-sense financial advice. Although it may be over-used, it can help you avoid those pesky ATM fees. If you are going somewhere that will require cash, think ahead and visit your personal bank since they won't charge you anything to withdraw from your accounts.
When preparing for a night out, I try to calculate how much I will need for the evening. However, I usually take a little extra, just in case. It's also a good idea to research the venue before you go so you know which payment types they will accept. Some smaller venues, outdoor activities, concerts, and sporting events are cash-only. A little forethought can keep you from waiting in long lines at the ATM and paying exorbitant fees.
3. Choose a Bank with a Wide Network.
When you use an ATM outside your network, you can expect to pay two charges…one from each bank. However, another option for avoiding fees is to choose a bank that has a wide network and several affiliated partners. Larger banks will have bank locations and ATMs nationwide. However, if you are in a rare situation and can't find one nearby, you should check your bank's network. Many banks will waive ATM fees for members of banks with which they partner.
If you are in a new city or can't get search results in your area, most banks also have mobile apps with an ATM locator to assist. In addition to the app being free, it is also a good strategy for avoiding ATM fees.
4. Choose a Bank that Reimburses ATM Fees.
For those who prefer to use local or online banking options, you could look for a bank that reimburses ATM fees. You might be surprised by just how many choices are out there. Although you will have to cover the fees upfront, many banks and credit unions will reimburse their members for out-of-network fees. Unfortunately, you typically won't see receive the funds until the end of the billing cycle.
When comparing reimbursement programs, make sure to ask about the restrictions. Some banks offer unlimited reimbursement worldwide. However, others set a monthly limit of what they will cover. Either way, it helps reduce the cost of using ATMs outside your network.
5. Find Ways to Get Cash Back.
One of the easiest and most frequently overlooked ways to skip the trip to the ATM is to get cashback on a purchase. Many stores offer cash back options when you make a purchase with your debit card. So, when you need money, stop by a gas station, grocery store, or retailer for a small purchase. Just be aware that some stores may require a minimum purchase to get cash back. And, you also want to make sure you have a sufficient balance in your account so you don't incur other fees.
6. Cover the Bill with Your Credit or Debit Card.
Without fail, it seems like no one ever requests separate checks whenever I go out with family or other large groups. But instead of getting annoyed, I see an opportunity to save a weekly errand to the bank. When the bill comes, you can offer to cover the total cost with your debit credit card. Then, everyone can cover their portion in cash.
7. Use Alternative Forms of Currency.
Alternatively, if another person in your party is offering to charge the entire bill to their card, you could repay them in digital currency. More and more people are using alternative forms of currency. So, using Venmo, Apple Pay, or PayPal is a good strategy for avoiding ATM fees.
So Which Is the Best Strategy for Avoiding ATM Fees?
The answer to this question depends on personal financial habits. So, the best strategy is whichever one will be easiest for you to stick with. Therefore, the best way is to try them out for yourself.
However, if you are still struggling and find yourself frequently visiting the ATM, you should shop around and find a bank account with the right options for you. Make sure you know what they charge you for and how much each transaction will cost you. For frequent travelers, make sure you choose a bank that has locations where you live and travel. And, of course, don't forget to get a list of all the partners in their network.
Before making any major financial decisions, it is always wise to research your options. And when in doubt, consult with your personal advisor so you can avoid making a costly mistake.
Read More
Jenny Smedra is an avid world traveler, ESL teacher, former archaeologist, and freelance writer. Choosing a life abroad had strengthened her commitment to finding ways to bring people together across language and cultural barriers. While most of her time is dedicated to either working with children, she also enjoys good friends, good food, and new adventures.