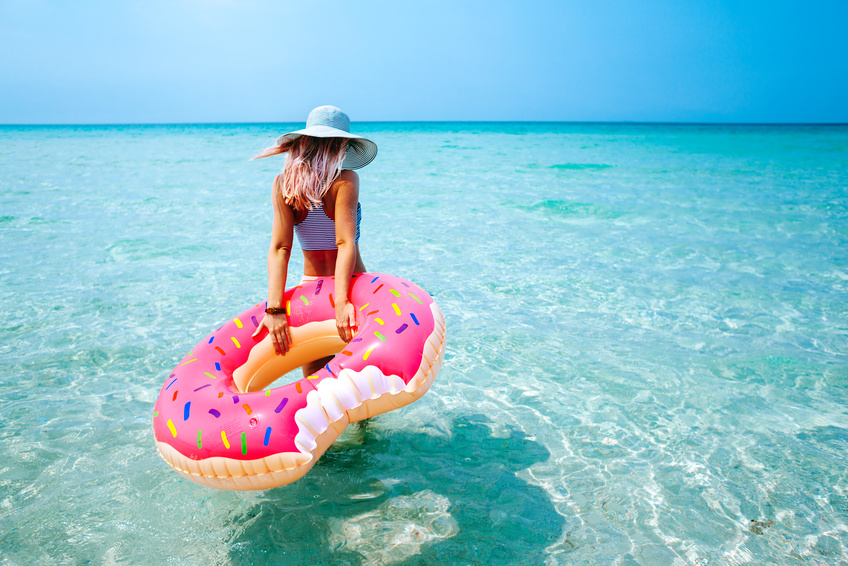 Despite all odds, you've found The One you want to spend the rest of your life with. Even though researchers say marriages have around a 50% chance of lasting, you've popped the question. They've said yes. You've started to plan the wedding. You're DIYing your flower arrangements and hiring a friend's band to play to save money. You might even embrace a side hustle or take on extra hours to pay for the must-have wedding expenses. Finally, you and your loved one say "I do" in a ceremony that represents just one of the 2.4 million weddings that take place in the U.S. each year.
You've even convinced your boss to let you use your earned vacation days for your honeymoon. Since 46% of HR professionals say retention is their greatest concern, maybe your manager wants to keep you around for the foreseeable future. That's good news. But before you head off to a tropical isle in wedded bliss, there's another factor you've got to figure out: who's going to pay for this trip? After spending so much of your savings on your wedding, will you be able to afford your honeymoon, too?
It's a question newlyweds all across the country are asking themselves — and many of them are coming up empty. Between student loans, high costs of living, and low wages, it's no wonder that couples have to get creative if they want to have any kind of honeymoon at all. According to the Wedding Wire, the average cost for a honeymoon represents 11% to 14% of the total wedding cost. That equates to anywhere from $4,000 to $5,000. That might not sound like a lot to some people, but for many young married couples, it's an impossible figure (especially when they've just spent thousands more on the ceremony and reception).
That's why many couples are embracing unconventional methods to enjoy at least some time away with their new spouse. Here are just a few ways you might be able to save some cash without sacrificing this beloved tradition.
Start a Honeyfund
A "honeyfund" is essentially a honeymoon registry. In lieu of bringing you gifts, your guests can donate to your honeymoon fund and allow you to really enjoy your vacation. According to data, 6% of newlyweds requested cash gifts for their wedding in 2017. This is a different way to present essentially the same concept while letting your guests know exactly what you'll be using their gift to do. Of course, no one has to donate to this fund; they can still give you a blender if they really want to. But this feels a bit more personal than a check or a card full of cash, and your guests will have the satisfaction of knowing their contribution allowed you to experience something truly special.
Use Credit Cards to Your Advantage
Data shows around 62% of couples end up paying for the honeymoon themselves. If this will be the case for you, there are ways to make the costs more manageable. Some couples will use credit card rewards and sign-up bonuses to fund their honeymoon. This can be tricky if you don't feel comfortable using credit cards (many people don't). But if you can afford to pay for certain wedding costs in full, you can use certain cards to rack up airfare miles, points for hotel stays, or cash-back bonuses that you can make good use of on your honeymoon. Just make sure to research these cards carefully before you sign up.
Change Your Travel Date or Destination
There are a few good ways to save money on travel in general, and employing these tactics may make your honeymoon a bit more affordable. If you're able to be flexible about when and where you go, you could save quite a bit. Of course, this might not work if you've had your heart set on a popular destination and have to go right after your wedding (which is taking place in peak season). But traveling during the off season to a more affordable locale probably won't have a negative effect on how magical your honeymoon will be. Even traveling mid-week rather than over a weekend could allow you to save. Play around a bit with these factors and assess which options are best for your budget. You could end up discovering a hidden gem you'd have otherwise never known about!
Opt for a Mini-Moon
There's a new trendy alternative to the traditional honeymoon: the mini-moon. They're shorter trips that take place closer to home; instead of being about the destination and a long break from real life, they're more about affordability, relaxation, and spending short amounts of quality time with your partner. You can spend a few days exploring your state and camping out or recuperating at a charming lake house. Basically, the mini-moon is meant as a way to reset and enjoy the start of this new chapterwithout breaking the bank. If you want to take a "real" honeymoon later on, you can always start saving up again and travel somewhere more exotic for your one-year anniversary.
Tell the World You're Married
Whatever honeymoon option you decide on, you shouldn't be shy when talking to people during your travels — specifically, those who work at hotels, restaurants, airports, and local attractions. If you tell everyone you're on your honeymoon, you might be lucky enough to be given a deal. While you should expect it or necessarily ask for it directly, you might be surprised by how being given a free round of drinks or a seat upgrade can set the tone for the whole trip (and save you a bit more money).
If you want to take a honeymoon, chances are that you'll have to end up paying for at least some of it yourself. But these tips can make the final bill a bit easier to manage. Plus, having to get creative can allow you to bond with your partner and create lasting memories — maybe even more so than if you could afford a long stay at a luxury resort with no questions asked.