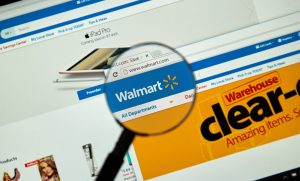 Let's be honest…how many times have you "misplaced" a receipt? For me, the answer is too many times to count. It seems like I lose receipts in my purse and pockets on a weekly basis. It becomes even more confusing when you make multiple trips and have several charges at the same store, such as Walmart. This usually doesn't cause a problem until I have to return or exchange items and I have to get a copy of my receipt. If you are as forgetful as me, retailers offer a service that will prevent many headaches and hours of phone calls. When you have lost your receipt, there are now ways you can find them. Here's how to look up your receipt for Walmart in-store purchases.
So What Happens If You Lose It and Need to Look Up Your Receipt for Walmart?
The Good News
If you lost your receipt, don't panic. Companies don't give customers copies of their receipts without keeping one for themselves. So, if you can provide a few details about the purchase and card that you used, someone can help you look up your receipt for Walmart in-store purchases.
Even when all hope of finding the receipt is lost, Walmart will accept returns on any products they currently sell. So, one way or another you will get compensation for your purchase. For items under $25, the store will give you cashback. However, for items that cost more than $25, they will usually offer gift cards for in-store credit. And, the store will also allow immediate exchanges for the same item.
The Bad News 
Unfortunately, it is more difficult if you used cash, debit, or gift cards to complete your purchase. Since it is harder to find the details on these transactions, it will take more time to track them down. Each Walmart location does thousands of transactions each day, so it may take some digging. But, if you can pinpoint some exact details, it will help narrow the search.
How to Look Up Your Receipt for Walmart In-Store Purchases
When you need a duplicate copy of your receipt, the first thing to do is locate as many details as you can about your purchase. Look for the date and time of the transaction, items on the receipt, the purchase price, the total amount, and a name or description of who helped you.
Online
This process will be much easier if you used a credit card. For those who have online banking, just log in and search your charge history for this information. Sometimes, printing your statement as proof of purchase will be enough to replace a lost receipt when you try to return an item in person.
However, you can also visit their site and use their receipt lookup tool if you want a copy of your receipt. With a few simple steps, you can quickly find what you need.
Locate the store where you made the purchase by entering your city or ZIP code. Then, select the specific store.
Enter the date of the receipt in question.
Choose which type of card you used and confirm the last four digits on it.
Put in the receipt total. If you can't remember the exact amount, you can find this information on your last statement.
Select the "lookup receipt" button, and the system will start searching. Once it finds your receipt, you can download and print it out.
Electronics Payment Hotline
For those who prefer to bypass the online option and speak directly to a human customer service agent, you can also contact the Electronics Payment Hotline. Just call 479-277-2643 and you will be connected to a team member who will help you get a duplicate receipt. However, this only works for transactions completed with a credit or debit card.
Be sure to have the necessary information on hand when you call the hotline. In order to find your receipt, they must know the store location, date of purchase, card number, and have access to a fax machine in order to receive a copy of the receipt.
Customer Care Team
When all else fails, you can always call the Customer Care Team at 1-800-WALMART or visit your local store. They are usually the best resource if you used cash or gift cards. Should you decide to go in person, visit the service counter at the same store where you previously shopped to see if they can help you look up your receipt for Walmart in-store purchases. If they cannot locate the receipt, they will also be able to assist with item exchanges or gift cards for in-store credit.
Ways to Avoid Losing Receipts in the Future
The unpleasant truth is that we all lose things. While there is no undoing the past, you can learn from mistakes and try to take measures to keep them from happening again. To be completely honest, I hate keeping track of paper receipts because they frequently disappear. Instead, I usually email myself a copy of all my receipts for my digital files. This way, I can avoid the hassle of contacting their Customer Care Team and wasting time looking for information since it is already in my email.
Frequent shoppers can also benefit from creating a Walmart account online. Then, you can track all your purchases through their website. For in-store purchases, just scan the QR code on the receipt, and it will automatically add it to the account. Or, you can link your phone number to your account and enter it on the keypad when you check out. Those who utilize Walmart Pay from their phones will also have their transactions added to their account.
Walmart knows that receipts get lost and that replacing them can be inconvenient. So, they have provided several ways for customers to get copies of their receipts. It may take some time and effort, but for the budget-conscious, it's worth the savings.
Read More
Jenny Smedra is an avid world traveler, ESL teacher, former archaeologist, and freelance writer. Choosing a life abroad had strengthened her commitment to finding ways to bring people together across language and cultural barriers. While most of her time is dedicated to either working with children, she also enjoys good friends, good food, and new adventures.