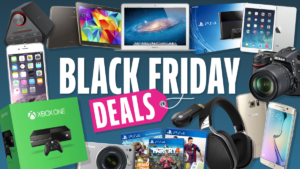 Black Friday is one of the most anticipated days of the year. For the people that choose to participate, Black Friday is the time to get great deals on gift items for family and friends as well as get something that they wanted for themselves at a steep discount. Most retailers participate in creating Black Friday deals that can draw in customers and pad their profits for the year. Here are some of the best Black Friday deals found for 2015.
Walmart Black Friday Deals
55″ LG Smart 4K UHD TV – $698 (reg. $998)
70″ Vizio Smart HDTV 1080p – $898 ($300 off)
iPad Air 2 Gold 16GB with Wi-Fi – $399 (reg. $499)
iPad mini 2 16GB with Wi-Fi – $199 (reg. $268)
Dyson DC33 Multi-Floor Bagless Upright Vacuum – $197 (reg. $269)
Fitbit Flex Wristband – $59 (reg. $99)
24″ Granite Peak Mountain Bike – $59 (reg. $84.84)
Disney Frozen Elsa or Anna Toddler Doll – $15 (reg. $24.97)
Better Homes and Gardens 21-pc. Mixing Bowl Set – $9.72
Bath Towels, 6-pk Washcloths, or Hand Towels – $1.60
GameStop Black Friday Deals
PlayStation 4 500 GB "Uncharted: The Nathan Drake Collection" bundle — $299.99 ($50 off)
Aqua Blue PlayStation Vita system — $169.99 ($30 off)
PlayStation 3 pre-owned 250 GB console — $119.99 ($40 off)
PlayStation 3 pre-owned 80 GB console — $79.99 ($40 off)
Xbox One 500 GB "Gears of War: Ultimate Edition" bundle — $299.99 ($50 off)
Xbox One 1 TB Elite bundle — $499.99 ($50 off)
Xbox One 1 TB holiday value bundle — $349.99 ($50 off)
Xbox 360 320 GB  pre-owned console — $119.99 ($50 off)
Pre-owned Nintendo 3DS XL pre-owned system — $99.99 ($40 off)
Pre-owned Nintendo Wii system — $49.99 ($30 off)
Staples Black Friday Deals
64GB iPad Air 2 in Gold with Wi-fi – $449 ($150 off)
16GB iPad Mini – $299 ($100 off)
$100 off select Beats headphones
20-40% off Philips audio products
$100 off Bose headphones
$100 off Bluetooth speakers.
RadioShack Black Friday Deals
BeoPlay S3 Wireless Speaker — $199.99 w/ $50 purchase (reg. $399.99)
Beats Pill 2.0 Wireless Speaker — $149.99 (reg. $199.99)
Beats Powerbeats2 Wireless Headphones — $139.99 (reg. $199.99)
Linksys AC1900 Wi-Fi Dual Band Router — $99.99 (reg. $199.99)
Linksys N600 Wi-Fi Range Extender — $39.99 (reg. $79.99)
Roku 3 Streaming Player — $79.99 (reg. $99.99)
Amazon 7″ Fire Tablet Bundle w/ 32GB memory card, free case — $54.99 (reg. $149.97)
Siberia V3 Headset — $59.99 (reg. $99.99)
Apex Gaming Keyboard — $69.99 (reg. $99.99)
Propel Micro Drone — $39.99 (reg. $49.99)
Target Black Friday Deals
55″ Westinghouse LED TV – $249.99 (reg. $599.99)
50″ Element LED TV – $239.99 ($200 off)
LG Smart 4K Ultra HD – $499.99 ($300 off)
Xbox One 'Gears of War: Ultimate Edition' bundle plus a $60 Target gift card – $299.99
HD Video Drone – $394.99 ($105 off)
Beats Solo Headphones – $96.99 ($103 off)
Nikon CoolPix L340 20MP Digital Camera – $99.99 (reg. $229.99)
Samsung Bluetooth Soundbar Subwoofer – $87.99 (reg. $179.99)
25% off Apple TVs
If you are thinking about shopping on Black
Friday
, you can find out everything you need to know at 
The Penny Hoarder
.
Investing for your future life is the only way you can be sure that your retirement will be secure. Without retirement savings and investments, most people enter their golden years with more personal and financial vulnerability than they have previously experienced at any other point in life. This means that saving and investing for retirement should be a no-brainer. But you should tell that to your brain, because it doesn't likely agree.
The brain has all kinds of inherent mechanisms to preserve your health and well being. But it doesn't conceive of these needs very well when considering how they'll work in the distant future. Complex brain imaging scans illustrate that people think of their future selves with no more clarity or care than they think about strangers. You wouldn't give money to a stranger for their retirement, would you? If your brain thinks about your future self in the exact same way, why would it be easy to save for retirement?
Prudential understands how the brain works, and they're here to help. By showing us exactly the ways in which our brains hang up our investment plans, it becomes easier to make contrary decisions to make sure that our retirements are prosperous ones. But it'll take some work. For example, our brains tend to freeze up when presented with too many choices. We also have a hard time exhibiting financial restraint (or any other kind of restraint for that matter). We're also prone to procrastination, and we even register the putting aside of money for saving or investment as just as uncomfortable as physical pain! Prudential understands all of these reasons and why they contribute to our lack of investment preparedness. They're also here to help regular people like you and me overcome these mental obstacles and be ready for the future, however distant.

If you are over the age of 70 ½ and you have not yet taken your required retirement plan distributions for this year, there is no time to spare. These distributions from your retirement accounts must be taken before December 31 or you will face a hefty tax penalty. Most retired individuals are required to withdraw a minimum distribution amount each tax year. Here are some things you should know about required retirement plan distributions.
Who Is Affected?
All taxpayers born before July 1, 1945 with money in a workplace retirement plan, like a 401k plan, 457b plans, or a 403b plan, or an traditional individual retirement plan (IRA), Simplified Employee Pension (SEP) and Savings Incentive Match Plans for Employees (SIMPLE) must take required retirement plan distributions of a minimum amount before the end of the calendar year.
Taxpayers born after June 30, 1944 and before July 1, 1945 are eligible for a special rule that allows them to wait until as late as April 1, 2016 to take their first required retirement plan distributions. Payments made to these taxpayers in early 2016 can count toward their 2015 required distribution, but are still taxable in 2016. For all subsequent years, the required distribution must be made by December 31.
For certain retirement plans, employees who are still working can postpone taking these distributions until April 1 of the year after they retire. The required distribution rules do not apply to owners of Roth IRAs while the original owner is alive.
How Much Money Must Be Withdrawn?
The amount of the required retirement plan distributions that must be taken is based on a calculation that includes the taxpayer's life expectancy on December 31, 2015 and their account balance on December 31, 2014. In most cases, the amount of the required withdrawal will be reported by the IRA trustee on Form 5498 in Box 12b.
For example, based on Table III (Uniform Lifetime Table) in IRS Publication 590-B, a taxpayer who turned 72 in 2015 would have a life expectancy of 25.6 years. There is a different table for taxpayers who name a spouse more than 10 years younger than them as their only beneficiary.
The typical taxpayer turning 70 ½ this year has a 3.6 percent required distribution amount, meaning they must withdraw that percentage of the total value of their retirement accounts. If all of the taxpayer's eligible retirement accounts added up to $100,000, they would take a $3,600 distribution and pay $900 in taxes, assuming that they fell within a 25 percent tax bracket.
What Is The Penalty?
The penalty for failing to take this payment by the end of the year is 50 percent of what should have been withdrawn. For the average taxpayer, this could amount to thousands of dollars.
Other Things To Know
Required retirement plan distributions from multiple IRAs or workplace retirement plan accounts can be taken from each account or the amounts can be combined with like accounts and taken from just one account. For example, if you have two eligible IRAs, the withdrawal amounts for both accounts can be taken from a single account. However, the withdrawal amount for an IRA cannot be taken from a 401k account and vice versa.